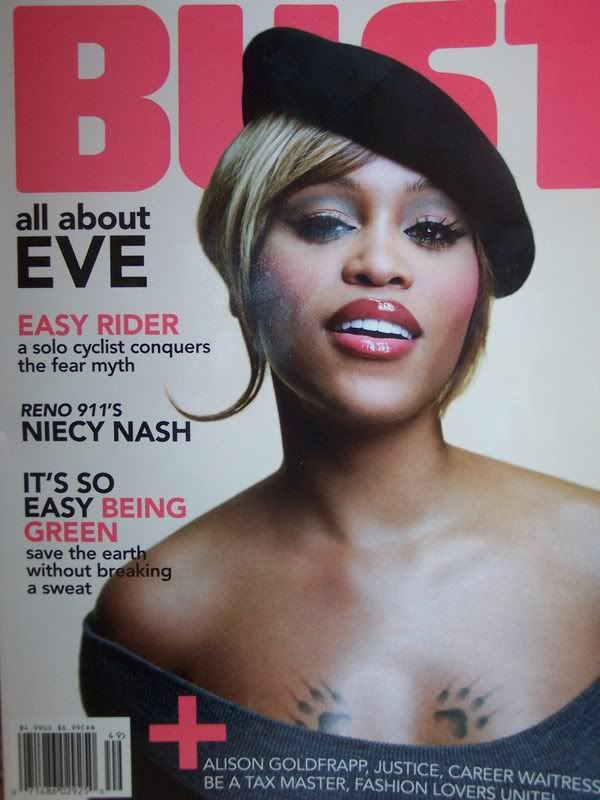 I let my subscription to BUST lapse a long time ago. Somewhere in between instructions for knitting a vibrator cozy and the ad for W.W.J.J.D (What Would Joan Jett Do?) t-shirts, I realized that I was not a hipster and had no business reading their literature. I was also to old to be seen reading it on the bus.
In spite I this, I still picked up the latest issue when I saw it at the grocery store last night. First of all, Eve is on the cover and while I probably wouldn't call myself a fan, she doesn't bug me.* Second, I have an uncontrollable impulse to buy most any non-smut magazine that has a Black woman on the cover. It's residual knee-jerk reaction to the long held publishing myth that black faces don't sell magazines. The only other Black woman I can remember gracing BUST's cover is Missy Elliott and that was about a hundred years ago.
I was pleasantly surprised. Not only does it contain the feature article on Eve, but there is also an interview with Reno 911's
Niecy Nash
, a piece on former Stiffed lead singer turned solo artist
Santogold
, and short pieces on dance troop
Brown Girls Burlesque
and
Sia Amma
, a Liberian born performer and activist.
I can't help but wonder if the editors are actually making a conscious effort to be more inclusive or if this is a one time only deal published to coincide with Black History Month.

*actually those paw print tattoos but me but that's another matter.