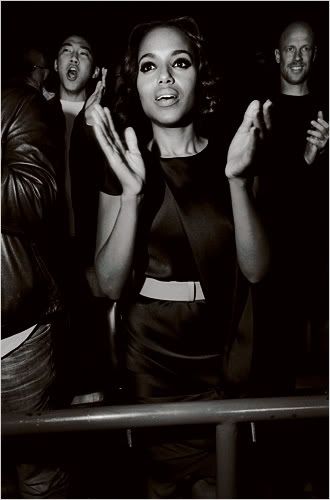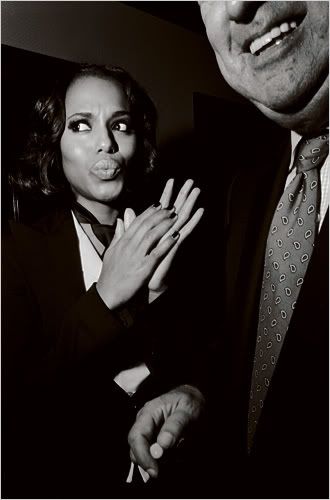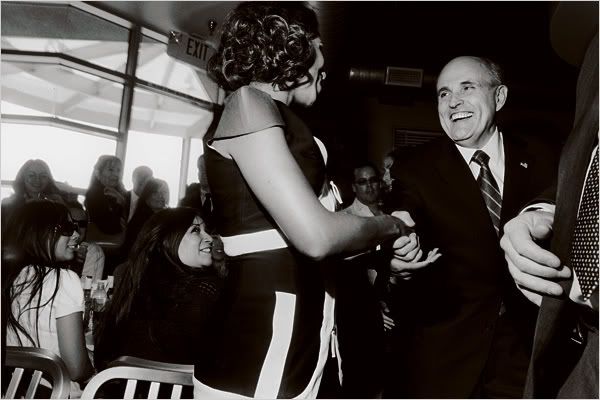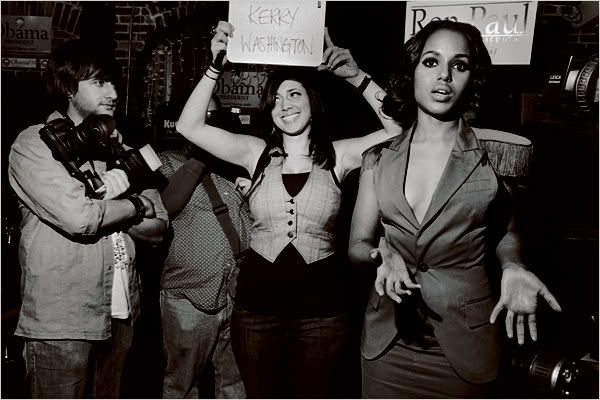 I don't do too many celebrity posts but I loved these photos of Kerry Washington (shot by Bruce Gilden for
The New York Times
magazine) so much that I felt compelled to share them. Nothing looks more dramatic or sophisticated than a well executed black and white shot.
Here's is the accompanying article, if you are interested:

She played the wife of Idi Amin in "The Last King of Scotland," but nothing quite prepared Kerry Washington for the "guerrilla artistry" required to shoot the Bruce Gilden photo essay, "Party Girl," for the Style pages of this Sunday's New York Times Magazine. For a day-and-a-half, the politically-minded and aptly-named actress jostled for photo ops and glad-handed pols across party lines, all while maintaining impeccable eye makeup. For this feat, she gets our vote. The Moment asked Washington to take the podium and give us her style platform.

How did the shoot go?
It was a unique experience. It was almost an anthropological study of the state of campaigns in this country. So much is about performance. There is a level of artistry that makes you feel like the worlds of fashion and Hollywood and politics organically fit together — though at times it feels like oil and water. At the amphitheatre where Barack Obama spoke, I ran into paparazzi who I know from doing what I do in this town. They were star struck by the photographer Bruce Gilden and wanted me to introduce them. It was this wonderful role reversal.

What did you think of the clothes?
Shoulders were a big theme this season in fashion. The suits were all very strong, smart and elegant. I feel like femininity — as an energy — is really present in this election. Our leader in the Senate is running, and everyone understands that we need more nurturing, caretaking and housecleaning energy in politics right now. It was really fun to bring a real feminine element into the political sphere.

Would any of the looks work on the Hill?
As with most high fashion, there are versions that could fly in Washington.

Once you've shown some cleavage, are you dead in Washington? If you ever ran for office, would your Hollywood wardrobe be held against you?
No, I don't think so. Arnold has shown a lot of skin over the years.

Do you want to run for office?
I would love to work in D.C. in public policy, but I don't know if a person who is great on the campaign trail is necessarily a leader. My dream is to be the next Jane Alexander. I want to do whatever I can to make democracy sexy — to make political awareness and fluency exciting and rock-star.

What should politicians be wearing?
There are a lot of fashion rules in D.C., but in some ways that's important. When I was in junior high and high school, I wore a uniform. It's amazing how much of your brain is free to think about other things when you don't have to think about clothes. Men in positions of power have been wearing the same thing for decades, while we are thinking about the latest "it" bag once a week. It disempowers us and keeps us from engaging in larger issues. At the same time, I appreciate fashion as an art form and a social calculator. I've developed on-going relationships with designers like Jean Paul Gaultier, Oscar de la Renta and Alberta Ferretti out of mutual respect.

Do $400 haircuts and Brioni suits send the wrong message?
I think when candidates are honest, we can take it into account and keep moving. We have to be careful not to judge a book by its cover. Everyone should have an Oscar suit — why not? We should all feel good about what we put on the morning. We should feel empowered by what we are wearing and have freedom of choice and the ability to express ourselves. Personally, I have been gravitating towards sustainable fabrics and fair trade. I like American Apparel because it's not sweatshop labor.

What about fur?
It has to be taken in context. Do you live in the Arctic? Is it new fur? Is it your grandma's? I have a very, very old fur that my grandmother left me. I don't know if I'll ever wear it, but if I move to Chicago, maybe. Or I might make it into bunch of teddy bears for kids with cancer.

Your vote for the best campaign bandwagon attire?
I like a lot of things. But I have a "Women for Obama" pin that means a lot to me.

Will you publicly support a candidate?
Yes. I'm getting really close to that. Seeing Barack Obama live during this shoot was a transformative experience. Really, my politics are probably closer to Dennis Kucinich. I am a huge fan of his; however, Barack Obama is really what this country needs right now.

Red or Blue?
I'd say green.