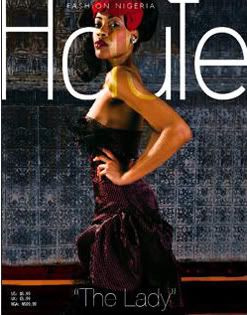 Sadly in the 90s and so far in the 00s it seems the Black model has gone the way of the Dodo bird. Whereas in the 80s Naomi, Tyra, Georgianna, Karen, Veronica Webb, Roshumba, Gail O'Neil, and a host of other Black models were in demand, these days that has tapered off to a drizzle.
Yves St Laurent
was among the first designers to use Black models in the 70s but you'd be hardpressed to find any walking for YSL today. His successor
Stefano Pilati
was quoted in
The Washington Post
as saying:
To me, it is a matter of proportions and the bodies I choose. My fit model was a black model...When I wanted to translate what I put on her, it was a disaster. It would need 13 times more work in the atelier to modify it to put on a more Caucasian anatomy.

Sometimes, it's not your choice. You can't find [black models] that are beautiful and with the right proportions. I prefer them with lean proportions with no big hips.
Hmm, one model doesn't fit and he assumes that ALL black models must be just like her? Riiiight. It's a good thing he wasn't fitting Linda Evangelista during her bloated period. He would have banned all the white ones too.
With the failure of fashion magazines geared to Black (and multicultural) readers like Suede, Honey, and most recently Vibe Vixen
.
One reader of BrownSista's blog lamented:

The bottom line is that the 'typical' fashion magazine advertisers (Gucci, Dior, Marc Jacobs, David Yurman, etc) don't want to pay for ads in black magazines and they don't want to diversify the models they use in those ads.

If D&G isn't buying ad space, the magazine can't get free clothes for editorials, pay big name models, fly to fashion shows, hire top photographers and writers, and become a presence in the fashion magazine scene.

They can't put out the fat Sept issues because there is no one buying all those ad pages to fill it.

There are only so many auto ads and MAC ads they can use. The audience is there, I don't know any black woman that doesn't miss Honey and Suede, but publishers are short sighted and won't give the magazines time to build readership or promote them.

All those hip hop artists that are so quick to talk about LV inn their songs should talk instead about how those brands refuse to market to African Americans because of racism.
So what's a fashion loving Black girl has to do to get her fix?
Perhaps the answer lies in African fashion magazines which serve to showcase the beauty, culture and style of African and African designers. I came across two such magazines recently
Uzuri Fashion
(which bills itself as the Premiere International African Inspired Fashion Magazine) and
Haute
, a tome focusing on Nigerian designers worldwide.
Both are English language and available for subscription. I haven't received my issues yet but I'm hopeful that these two publications will satisfy my craving until Vogue comes to its senses and launches
Vogue: South Africa
.