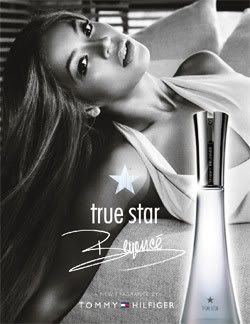 So
Beyonce
is shilling for
Armani
now which is a big big step up from
Tommy Hilfiger
.
Yep, the old girl is everywhere right now but I'm not mad at her, because a sister has got to get her paper. Besides, she's not out there drunk driving or flashing her ladybits at paparazzi so she can't be all bad.
Does it seem a little odd to anyone else that she's out with a new fragrance so soon after her contract with Hilfiger ended?
I bet her pulse points still smell like
True Star
. I bet Kelly and Michelle get her left over crates of the fragrance for Christmas this year.